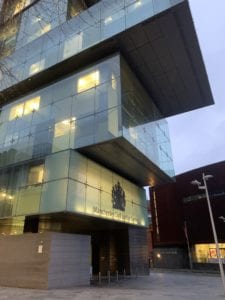 Every party in a civil case has an obligation to try to exchange information and try to resolve their disputes before starting litigation. They have to comply with Pre action protocols. There are specific protocols for things like professional negligence and construction for example.
The Civil Justice Council has released its interim report on pre-action protocols in the form of a consultation:  https://www.judiciary.uk/announcements/civil-justice-council-launches-consultation-on-pre-action-protocols/
The key proposals for reform in the report, as stated on the website include:
Making all PAPs available online via portals.
Formally recognising that compliance with PAPs would be mandatory, except in urgent cases where immediate court intervention is necessary.
Introducing a good faith obligation to try to resolve or narrow the dispute at the pre-action stage.
Introducing a requirement to complete a joint stocktake report/list of issues as a final step before the start of proceedings.
Introducing a summary costs procedure, independent of Part 8, for costs liability and quantum disputes for cases that are resolved at a PAP stage.
Expanded powers for the courts and new processes for raising compliance issues to facilitate a more robust, consistent and timely approach to non-compliance with PAPs.
Guidance to the courts to consider ways of streamlining directions and the litigation process to reflect the progress already made by parties who have complied with the relevant PAP.
Making PAPs more user friendly through greater use of non-technical language, and by providing information about the pre-action and litigation process to litigants in person (LIPs).
Creating a new general PAP with more concrete time frames and disclosure standards for pre-action letters of claim and replies
The report suggests
Introducing a good faith obligation to try to resolve or narrow the dispute at the pre- action stage. This would be a non-prescriptive obligation. Compliance could include engaging in formal alternative dispute resolution (ADR) processes but also informal negotiations such as without prejudice discussions between the parties, or formal settlement offers. PAPs would also identify possible dispute resolution processes that parties might engage in, including ombudsman schemes.
The report goes on to refer to the CJC report on compulsory mediation and considers whether the pre action protocols amount to a form of compulsion or should do so.
As mediators we always recommend that parties try to resolve their differences as early as possible and litigation should be a last resort. Our ADR Roadshow report part funded by the EU shows that parties who use mediation would use it again. So if a dispute cannot be resolved before starting proceedings, why not give it a go?