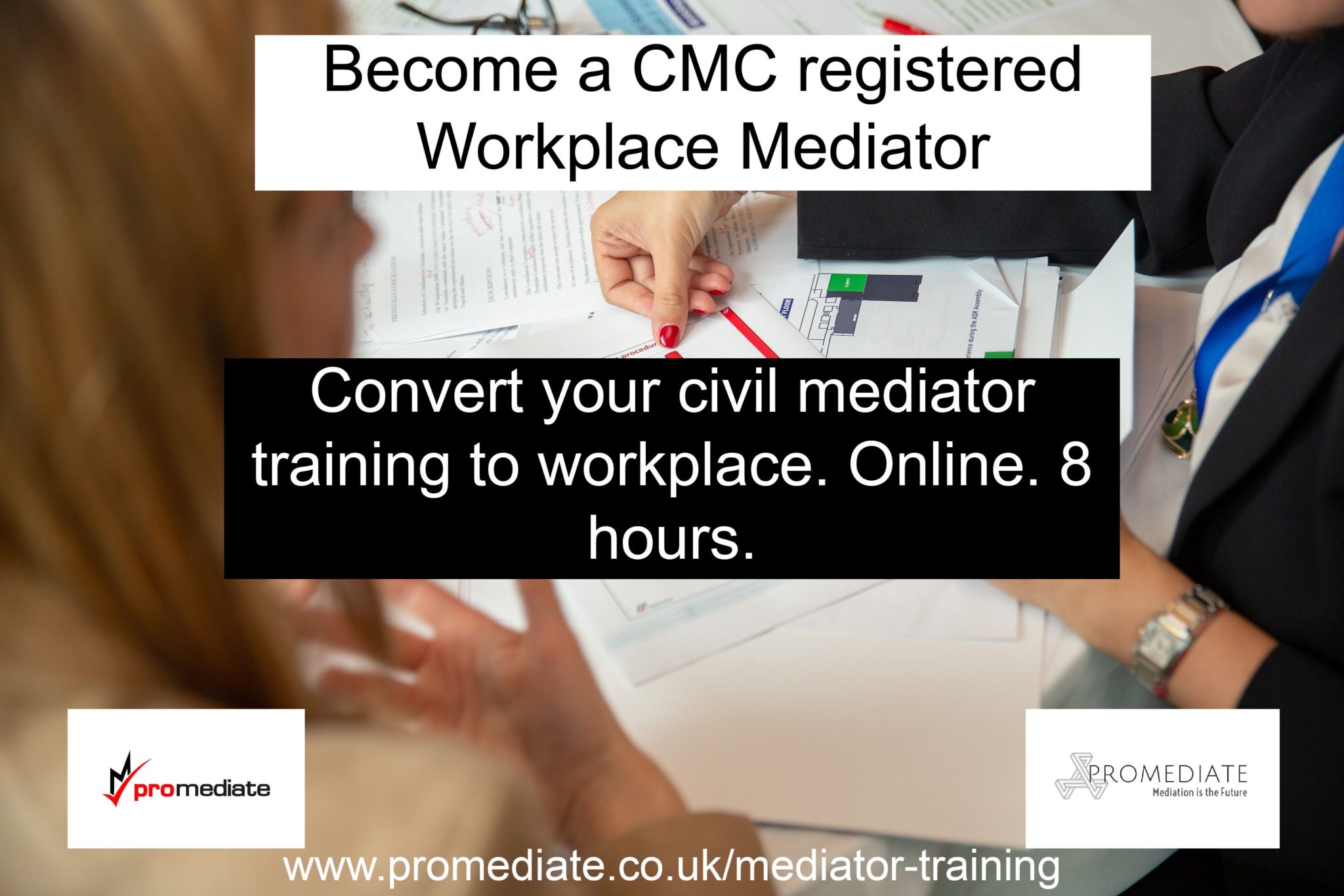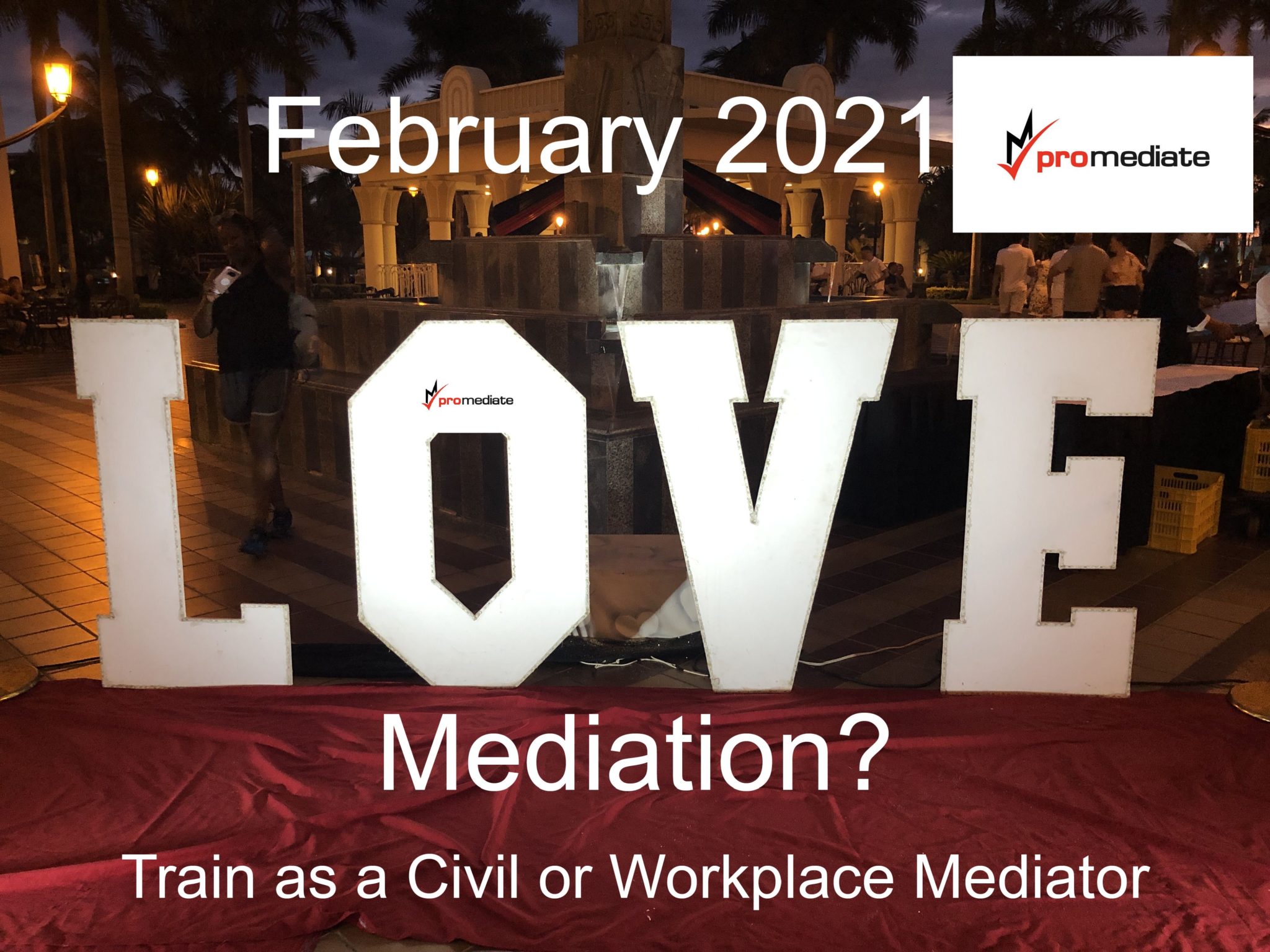 Train as a Civil and Commercial Mediator Online
We are now offering remote training as a mediator (subject to a one day face to face assessment) Please note that as per CMC requirements this involves at least one day in person training.
Also we provide the workplace conversion course – 4 evenings – 8 hours
Course Dates
February 2021
Please contact us for more information.
Enquiries@promediate.co.uk
_______________________________________________________________________________________________________________
ProMediate has developed a mediator training course and is a Registered Training Provider accredited by the Civil Mediation Council
Details can be found at https://www.promediate.co.uk/mediator-training/
ProMediate now provides high quality mediator training courses to enable you to become a mediator. Our 5-day mediation training course, spread over 2 weeks. We also currently provide this online.
Our course directors include experienced mediators, Peter Causton and includes training by academic experts and practising CMC registered mediators on ProMediate's panel.
https://www.promediate.co.uk/who-we-are/find-a-mediator/peter-causton/
Trainers and assessors are drawn from ProMediate's panel of professional independent mediators.
Our courses are business focused, delivered in two modules over two weeks to allow attendees a more flexible route to qualification.
By the end of the course you will be able to conduct:
civil and commercial mediations
online and telephone mediations
workplace mediations
after completing observations you will be able to join the CMC
In addition we provide value add on our course:
on-going mentoring when the course ends
the opportunity to join the ProMediate panel (if relevant criteria is achieved)
insights and training on how to run a mediation business
Our next course dates
ProMediate's 2021 mediator training course will be on the following dates:
Online Course plus in person training day

February 2021 

The cost of the online course is £1.500 plus VAT but and the in person socially distanced course in Liverpool is £2500 plus VAT.
This unlike many, includes all course materials, lunch and refreshments, practical assessment, accreditation and subsequent written feedback.
Workplace Conversion Course
We are also delivering a workplace conversion course on 4 evenings in February 2021.
Please contact us at enquiries@promediate.co.uk for further information
We are now offering the opportunity to obtain workplace CMC accreditation for those who have completed the civil and commercial mediation course.
https://www.promediate.co.uk/workplace-conversion-course-november-2020-8-hours-online/
#mediate #mediation #workplace #employment 
Pro Mediate offer a variety of training packages to suit the needs of small or large businesses / organisations who wish to offer in-house mediation services. Our training can either be 'hands on' for small groups or targeted towards a larger audience such as conferences and seminars. Our training packages cover the following areas of mediation:
Mediation knowledge
We will inform you of up to date mediation developments and legal updates.
Preparation 
Effective preparation for a mediation and tactics during a mediation.
Cost 
Our training packages are tailored specifically to meet your requirements and can range from a short introduction to full day-rate training. Please contact us for a quote.

"First of all I would like to say how grateful we are to you for giving up your time to join us at our Annual Conference and giving your talk yesterday. Your talk was well received and gave a very useful reminder and up-date to the delegates. I hope you enjoyed the event and thank you for helping us to put on a really good Conference this year."
"Thanks for the excellent training – much better than other providers – more business focused and the opportunity to do observations I needed."
"You are very good at all the technology"
"Course is very good. You are a great teacher"
"thank you so much. It was brilliant!"
"awesome day today I really enjoyed it!"
"If I had to rate it on an out of 10 basis, it would be a 10/10"
"Overall the course was utterly brilliant and thought provoking"
"The course is mainly practical. It never "dragged on all key items were addressed"
Recent Blog Posts
Learn from the top thought leaders in the industry.
At ProMediate we have a wealth of experience in assisting businesses in resolving workplace disputes. The recent news about the Home Secretary and "unintended bullying" highlights the issue that the outcome of grievances and complaints can sometimes be disappointing....
Don't Be Shy. Get In Touch.
If you are interested in working together, send us an inquiry and we will get back to you as soon as we can!