Mediation Set up Service
Contact Us: 0203 621 3908 OR 0782 796 1764 OR enquiries@promediate.co.uk
Mediation Set up Service – And Certificate of ADR Compliance
Please note that this service is not part of the approved ADR Process under the Alternative Dispute Resolution (Competent Authorities and Information) Regulations 2015.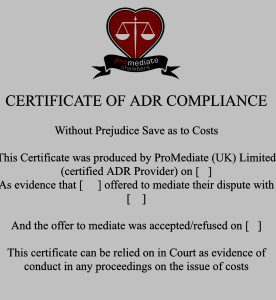 If:
you are having problems getting the other party to respond to a request to mediate; or
they are not responding to you at all
We can help by contacting them for you and explaining the process to them. We can also put forward an offer to resolve the matter on a "without prejudice basis" If they still refuse you can draw this to the attention of the Court as evidence of poor conduct.  This is to provide them with a last opportunity to avoid Court action.  We give them 7 working days to respond.
We charge £25/50 plus VAT to contact the other party and persuade them to take part in the alternative dispute resolution process.  
We provide you with a certificate of ADR compliance which is admissible in Court on the issue of costs, recording your approach and invitation to mediate your dispute.
We charge the following fees for contacting the other party in this way:
£25 plus VAT for complaints up to £1000 in value. £50 plus VAT for complaints over £1000
Payment can be made by following the link:
https://www.promediate.co.uk/payment-for-mediation-services-2/
Our Mission Statement
We aim to use our best endeavours to settle disputes cost effectively and efficiently and to use the most appropriate means to facilitate settlement of disputes, to include using new technology. Pro Mediate are a proud supporter of Melanoma UK
Offer to Mediate
People are expected to mediate rather than go to Court, so here is a draft letter or email you can send to your opponent offering to mediate:
draft letter offering to mediate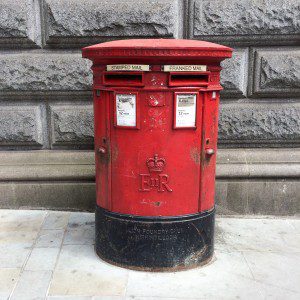 Recent Blog Posts
Learn from the top thought leaders in the industry.
We have received some great feedback from students on our mediator training course: "You are very good at all the technology" "Course is very good. You are a great teacher" "thank you so much. It was brilliant!" "awesome day today I really enjoyed it!" If you are...
Don't Be Shy. Get In Touch.
If you are interested in working together, send us an inquiry and we will get back to you as soon as we can!


ProMediate is certified by CTSI to provide mediation services for consumer/business disputes in the UK. The charges that ProMediate is authorised to raise for each dispute dealt with are as follows:
Cost to businesses:
Value of Goods or Services
Up to £1,000                                         – £50 plus VAT
– £2,500                                                  – £75 plus VAT
– £5,000                                                  – £100 plus VAT
– £7,500                                                   – £125 plus VAT
– £10,000                                                 – £150 plus VAT
Payment can be made here for individual disputes:
Business Membership fee £100 plus VAT – sign up here……
Cost to Consumers:
Value of Goods or Services
Up to £1,000                                          – £10 plus VAT
£2,500                                                     – £25 plus VAT
£5,000                                                      – £50 plus VAT
£7,500                                                       – £75 plus VAT
£10,000                                                    – £100 plus VAT
The above charges are based upon 1 hour of mediator time. Disputes above this value can exit the scheme and be dealt with by ProMediate's general mediation service.
It is a term of the Click2Resolve scheme that the business and consumer must consent to use the service, before instructing us.
Payment by Consumers can be made here……
Mediation Set up Service
If you contact us without first getting the other person or business to agree to use our service, we will contact them to try to obtain their agreement.
In those circumstances we do charge a set up fee for this service. It is sometimes possible to resolve your dispute informally after one or two calls without even booking a mediation appointment!
When we receive an initial enquiry we crack on immediately trying to make contact with the other side in the dispute, emailing info, leaving messages on the telephone and even text messages. Our working hours are never 9-5 and we will often make contact at a time that meets the needs of our clients, evenings and weekends included.
Sometimes one side requires key information before they will agree to mediate. We will often liaise with all concerned to make sure this is shared. Once contact is made there will be further to-ing and fro-ing to set up the appointment, documents sent out and making sure everyone is comfortable with the process.
We charge the following fees for contacting the other party in this way:
Value of Goods or services:
Up to £1,000 – £10 plus VAT
– £2,500       – £25 plus VAT
–  £2,500 upwards – £50 plus VAT
If you have already discussed your case with one of our mediators and need to pay your set up fee click below to pay by PayPal (if you need an alternative payment method please contact our office on 01928734630). (click below to make a payment)