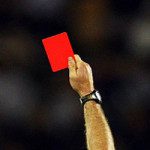 We have now heard that having rejected an offer of £1.2m, Eva Carneiro has settled her claim before giving evidence and after Jose Mourinho turned up at the Employment Tribunal. Apparently Ms Carneiro was about to expand her sexism allegations to refer to texts and emails.  Chelsea reputedly upped their offer to £5m. Chelsea issued a statement, saying it
"regretted the circumstances" that led to the former club doctor leaving the club and "apologises unreservedly to her and her family for the distress caused".
It added that Jose Mourinho thanked Dr Carneiro for the "excellent and dedicated support" she provided and wished her a "successful career".
Clearly that is an agreed statement but the terms of the financial package remains confidential.
This was always going to be a case that Chelsea were going to lose so why one asks did it take until the Tribunal door to settle? Did Chelsea think that Ms Carneiro might bottle it, or were there other obstinate characters involved? We will never know, but the price of settlement is likely to have increased because of the costs involved. Parties quite often leave it until the Court door before settling in a game of brinkmanship which rarely pays off. By this stage the parties have had to endure months, if not years of stress, and incur vast costs that will be likely never to be recovered. In this case, 304 days elapsed before settlement and in the meantime Ms Carneiro got married.
Mediation would have been a better option at an earlier stage.  Mediations are held 'without prejudice' and cannot be used in court proceedings. The mediator cannot be called to give evidence in any court proceeding after a mediation takes place and all notes taken are shredded for security. Confidentiality, which was obviously important in this case, is guaranteed.
There is a cost element to mediation but it is significantly lower than pursuing or defending a grievance in the courts or Tribunal. The courts also look favourably at those who have made an attempt to mediate. Employment Tribunals require parties to go through ACAS conciliation service before issuing but in a high value case such as this in our view mediation would have been a better option.
Whatever the rights and wrongs, in cases such as these, a lot of bad publicity, legal costs and embarrassment could be saved by using a mediator. ProMediate has workplace mediators on its panel who can help with this.
Disclaimer: The information and any commentary on the law contained in this article is for information purposes only. No responsibility for the accuracy and correctness of the information and commentary or for any consequences of relying on it, is assumed by the author. The information and commentary does not, and is not intended to amount to legal advice to any person on a specific case or matter. The article was written on the date shown and may not represent the law as it stands subsequently. For the avoidance of doubt, the views in this article are personal to the author and not attributable to any other individual or organisation.