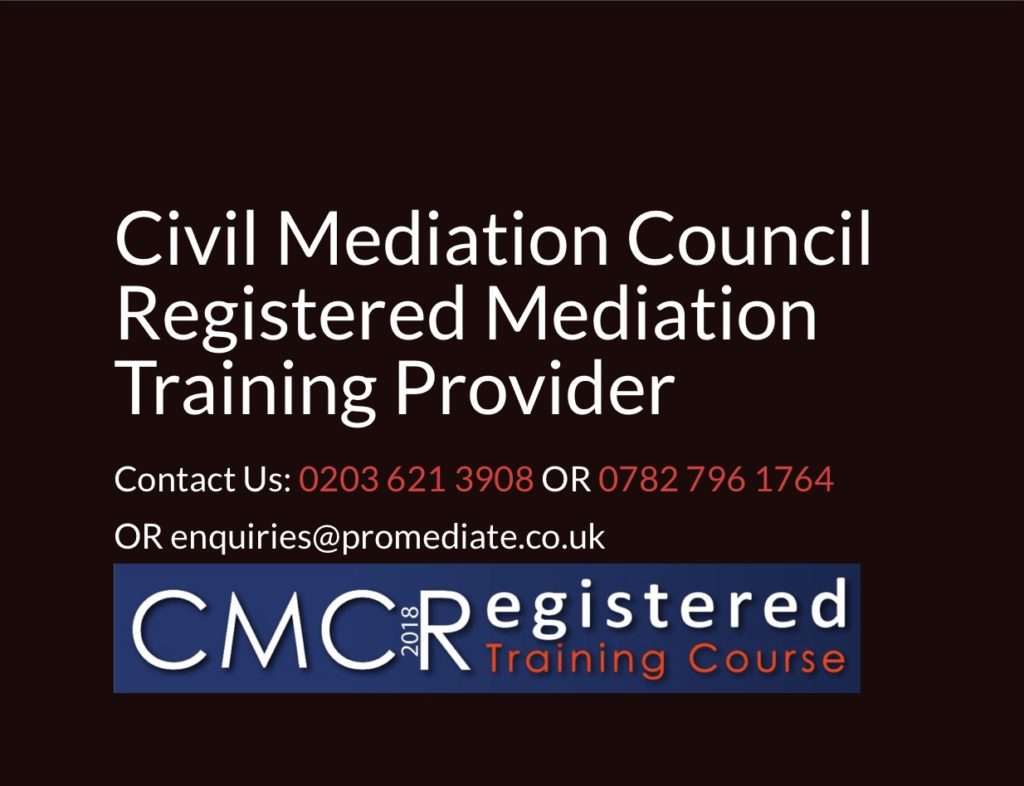 ProMediate's 2020 mediator training course will be on the following dates:
May 2020
Training Module – 19th – 21st Assessment Module – 27th – 28th
October 2020
Training Module – 13th – 15th Assessment Module – 21st – 22nd
The cost of the course is £1.250 plus VAT but we offer a staggering 15% discounted price of£1,062.50 plus VAT if booked 4 weeks in advance.
This unlike many, includes all course materials, lunch and refreshments, practical assessment, accreditation and subsequent written feedback.
Delegates are trained by practicing mediation practitioners who are not solely trainers, having a real understanding of mediation as a business.
Being accredited training, students upon completion of the course are entitled to apply to join the Civil Mediation Council as Registered mediators, having completed the requisite shadowing.
Accredited Training
This accredited training will be of particular interest to businesses, litigation lawyers and HR professionals interested in being workplace mediators and individuals who wish to become civil and commercial mediators.
ProMediate's mediator training course has a business emphasis and is specifically designed for your business needs. We provide a 3 day training module and 2 day assessment module held separately to comply with CMC requirements, but allowing you to continue working without having to take 5 days out of work in one go.
ProMediate (UK) Limited is a Registered CMC Mediation Provider, being one of very few Providers to offer Training too.