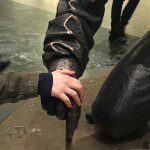 A survey of legal needs in England and Wales has been carried out by the Law Society, which will be of interest to those providing legal services.
http://www.lawsociety.org.uk/support-services/research-trends/largest-ever-legal-needs-survey-in-england-and-wales/
More than 8000 people responded to questions about how they dealt with a range of legal issues.  Consumer Rights issues topped the table, at 33%, providing backing for consumer ADR as a way of resolving those disputes.
Disputes with neighbours (16 per cent) came up near the top, which is not surprising.  Problems with an employer (12 per cent) were also common issues. These are all issues which can be dealt with adequately through mediation.
Respondents tackled their problems in a variety of ways; 35 per cent obtained legal advice; and 15 per cent got help from family or friends. 34 per cent of respondents tried to tackle them alone while 13 per cent did nothing.
For issues where advice had been obtained the primary objectives mentioned most frequently were a motivation by a sense of injustice (13%), a desire to put something right that had gone wrong (13%), to change the behaviour of a person (12%), or to prevent something that had gone wrong from going wrong again (11%). In more than half of issues (56%) objectives had been achieved completely, while in around a quarter (27%) they had been achieved in part. One in ten issues (10%) were not felt to have had objectives achieved at all and in seven percent the respondents felt it was too early to say.
Objectives were least likely to be achieved in issues involving injury or negligence such as clinical negligence and being treated badly by the police.
Where respondents were dissatisfied with advisors this was usually founded in perceived delays in the amount of time the matter took (45% of issues where dissatisfaction was expressed) or not being kept up to date on the progress (43%). For some issues the service was considered poor or not up to scratch (38%), mistakes were made by the provider in dealing with the matter (32%) or the person dealing with the issue did not seem to know what they were doing (26%).
Respondents generally did not appear to take action as a result of dissatisfaction with nothing being done in two-fifths of such issues, although in 21% of issues they raised concerns with the service provider but did not make a formal complaint. Amongst issues when respondents made a complaint, around one in six issues respondents noted that they received an apology from the legal service provider (17%), closely followed by return of the documents that they were holding on to (16%), provision of a full explanation of why things went wrong (14%) and return or refund of legal fees (13%).
Clearly there are lessons to be learned by legal providers from this survey. There is not a great deal about alternative dispute resolution in the survey, but perhaps it is too early for the ADR Directive to have any impact as it only came into effect from 1 October and is anyway almost entirely voluntary.