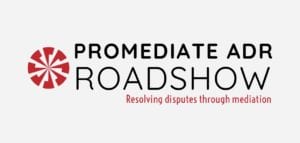 ProMediate is organising a roadshow to showcase Alternative Dispute Resolution in the UK. https://www.promediate.co.uk/adr-roadshow/
15 June 2020 at 2pm – 3pm.
It is designed for businesses to help them resolve disputes through ADR.  Even this week, the Financial Times recorded that Cabinet Office Guidance is to mediate disputes rather than clogging up the Courts.
It is part funded by the EU which enacted the ADR Directive in 2015.  Since then, businesses have been required to signpost consumers to ADR bodies including ProMediate.  The majority still do not use ADR.
Why have a roadshow now?
Prior to the coronavirus pandemic it already made sense to use alternative dispute resolution for almost every type of dispute including consumer disputes.  Following the pandemic there is likely to be a backlog in the courts and small claims and other cases are likely to be delayed.
Lawyers are predicting a tsunami of claims following the coronavirus pandemic and the Courts will have a backlog of cases to deal with.  Now more than ever, it makes sense to use mediation to resolve disputes with consumers and others.
What is the purpose of the Roadshow?
The objective of the roadshow is to show how consumer and other claims can be dealt with efficiently and cost effectively through mediation and ADR.
What is in it for my business?
Businesses which sign up to use ProMediate's consumer ADR scheme after attending the webinar will receive free membership for 6 months and one free consumer dispute falling within the scheme in return for providing feedback as to how helpful ADR was to the business.
When is it?
The first webinar will be on 15 June 2020 at 2pm – 3pm.
Once the coronavirus pandemic has past, we will be holding the webinar in various venues around the UK to be announced.
You are invited to a Zoom webinar.
When: Jun 15, 2020 02:00 PM London
Topic: Alternative Dispute Resolution Roadshow
Register in advance for this webinar:
After registering, you will receive a confirmation email containing information about joining the webinar.