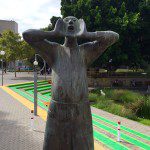 There is no better example perhaps of wasted legal costs than the superinjunction obtained by a celebrity to prevent citizens of England and Wales from finding out that his/her marriage is not as conventional as they think. This sums up images of someone desperately trying to turn back the tide.
The objective has been undermined by the all knowing Internet and publication outside the jurisdiction which has made a mockery of the injunction obtained. The story illustrates the fallacy of thinking that anything can be kept private these days.
The application has only served to increase interest in the story and the legal process itself has now become the story itself. Not satisfied with the Court of Appeal decision to lift the injunction as everyone with access to the Internet knows who they are, the celebrity has applied to the Supreme Court to maintain the untenable position and we find out on Wednesday whether the Supreme Court will uphold the decision. Unlike in the Ryan Giggs case, MPs have been told by the Speaker not to    name the celebrity in the House of Commons and burst the bubble that way, using their cloak of immunity and causing a rift between parliament and the judiciary to reopen. Academics will question whether this alters the constitution.
What interest does this have for ADR? Well, this is a situation where Court proceedings have so far been a waste of time and money, although the celebrity may be raising the issue to strengthen the underlying breach of privacy claim and level of damages claimed from the newspapers.  The involvement of the Courts increases the cost of publishing the story. Someone will have to pay the costs of the injunction and the applications to the higher courts and this will probably be decided when the case goes on for determination as to whether publication of the story amounts to a breach of privacy. That underlying dispute could be mediated as well as any argument about costs.
It also highlights the futility of litigation in these types of case which can only hold the floodgates together for a limited period before the overwhelming pressure of publicity forces a flood of information out into the public domain.