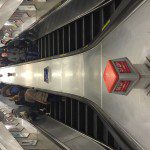 A legal dispute has begun over the authorship of Led Zeppelin's most famous song Stairway to Heaven.
It is alleged that the opening chords to the song were in fact stolen from a 1967 song Taurus, by the band Spirit. It will be heard by a jury in May, a US judge has ruled.
In the suit filed, the surviving members of Led Zeppelin deny that they ever shared a stage with or even had discussions with Spirit's members when both bands toured the festival circuit in the 1960s. However, Spirit's surviving band members remember things differently, recalling backstage conversations between the two bands and performing after each other at festivals.
It is estimated that the song has earned at least $525m dollars in royalties and record sales, so there is a lot of money at stake.
Other disputes
Johnny Cash v Gordon Jenkins: Cash was forced to pay composer Gordon Jenkins $75,000 for using lyrics and melody from Jenkins' 1953 track Crescent City Blues as the basis for his own 1955 song, Folsom Prison Blues
Robin Thicke and Pharrell Williams v Marvin Gaye: a jury awarded Marvin Gaye's family $7.4m in 2015 after he ruled that Robin Thicke and Pharrell Williams had copied their father's music to create their hit Blurred Lines
George Harrison v Ronnie Mack: George Harrison was found guilty of "subconscious plagiarism" of Ronnie Mack's He's So Fine for his song My Sweet Lord. He was ordered to pay $1.5m of the song earnings in damages.
Sam Smith v Tom Petty: Sam Smith now has to pay 12.5% royalties from his hit song Stay With Me to Tom Petty and Jeff Lynne following an out-of-court settlement over song similarities
Vanilla Ice v Queen and David Bowie: the rapper found himself in trouble after he sampled Under Pressure without permission, only changing the baseline. He also settled out of court.
We do think that this case is also appropriate for an out of court settlement and that mediation would be beneficial and might save a large amount of costs, but if it proceeds the trial is likely to be an entertaining history lesson about the origins of this song.