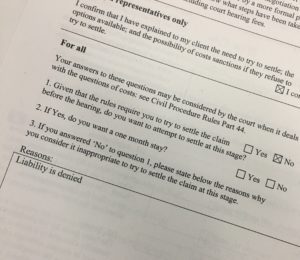 CMC Response to CJC Consultation
On the 17th October 2017, the Working Group of the Civil Justice Council (CJC) published a 98-page interim report on ADR and its place within the civil justice system. The report concluded with a set of recommendations and initiated a consultation process by inviting comments from all stakeholders. The CMC Board has now approved, in principle, a draft proposal in response to the consultation, namely a 'Draft Scheme for Automatic Referral to Mediation' in the form of a flow chart with accompanying notes.
The CMC Board invite members to attend the AGM on Wednesday 29th November where the proposal will be explained in greater detail, and where members will have an opportunity to comment. If you are attending the AGM and not already e-mailed the registrar to confirm this, please do so by return.
If you are unable to attend the AGM, you can submit your comments by email to the registrar by 4th December. Your comments should be confined to approval of or objection to the proposed outline scheme, as this draft is the subject of further discussion and "a work in progress". Please mark the subject line in your emails as "CJC CONSULTATION".
The registrar can be contacted at registrar@civilmediation.org