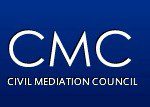 CMC ANNUAL CONFERENCE
WEDNESDAY 11TH MAY 2016
CONGRESS CENTRE, LONDON
The profession of mediator, if that is what it is, is more than merely assisting disputant parties to reach a settlement, it is to enable them to reach the right settlement for them – meeting their true needs and, hopefully, making their lives better.
The CMC conference offers an opportunity to debate the many issues which arise from the practice of mediation, from the point of view of those who seek to use the services of mediators, the expectations of government, and the concerns of mediators themselves.
There are no closed categories of participants in our conference. For this reason we encourage members to bring along users of mediation, whether experienced or otherwise to widen the debate we wish to encourage.
Speakers include:
CMC Chairman, Sir Alan Ward, Esther Stanhope, Bill Marsh, Bill Wood, Graham Massie, Colin Manning, Mark Mattison, Louisa Weinstein, David Richbell and Oliver Richbell
Topics include:
How have users found their experience of mediation, what's in store following the draft Briggs LJ report, what does the CEDR audit tell us in 2016?