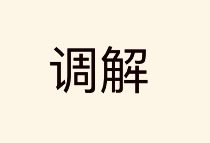 China appears to have recognised the benefits of mediation. On 7 August 2019, China and other 45 States signed the UN Convention on International Settlement Agreements Resulting from Mediation (the Singapore Convention). The UK has not signed. The China Justice Observer has a useful summary as to the history of mediation in China (published in August 2019): https://www.chinajusticeobserver.com/a/mediation-in-china-past-and-present#:~:text=There%20are%20no%20systematic%20legal%20rules%20on%20mediation,these%20rules%2C%20Chinese%20mediation%20generally%20includes%20the%20following%3A
It concludes that mediation is in its infancy in China, particularly commercial mediation, but that various initiatives are resulting in its increase.
The Chinese Judiciary website also sets out the types of mediation available and the applicable principles: http://www.china.org.cn/features/judiciary/2002-04/19/content_1031185.htm
In respect of civil disputes the website says that the People's Mediation Committees' mission is:
Article 5 of the Regulations for the Organization of People's Mediation Committees states, "The mission of People's Mediation Committees is to mediate civil disputes and, through such mediation, publicize laws, regulations, rules and policies and educate citizens to abide by laws and respect universally accepted morals."

c) Basic principles
Respect for the right to sue.
2. Form of Organization

a) People's Mediation Committee

The Constitution and laws provide that the People's Mediation Committees are non-governmental organizations under Villagers Committees and Residents Committee for mediating civil disputes. They operate under the guidance of grassroots government and courts.

b) People's Mediators

According to law, People's Mediators should have the following qualifications:
Enthusiastic about mediation;
Knowledgeable about legal and policy issues;
It sounds similar to what we are used to in the UK.
Linklaters has a useful article about mediation in China on its website. https://www.linklaters.com/en/insights/publications/commercial-mediation-a-global-review/commercial-mediation-a-global-review/prc
It is reported that 5.2 million disputes were resolved in 2020 on China's online mediation platform with a success rate of 65 percent, saving more people having to go to court, according to the Supreme People's Court (SPC).
Mediation applications have rocketed more than 300x on the platform since the launch of the service in early 2018, said the SPC. It said that 2020 saw an average of 66 submissions for the service every minute.
The country's 3,502 courts have all opened mediation services on the platform so far. Also, 32,937 mediation organizations have moved in and brought the number of online mediators to 165,333, said Qian Xiaochen, head of the case-filing tribunal of the SPC.
They have settled more than 13.6 million disputes in three years.
Data showed that China's courts accepted 13.14 million civil lawsuits in 2020, a decrease of 5.17 percent from 2019. The number of successful pre-trial mediations in these cases rose to 4.24 million in 2020 from 1.46 million in 2019.
This can be partly attributed to the platform's increasingly prominent role in the country's legal dispute-settlement system, said Qian.
Mediation on the platform needs to conclude in a maximum of 30 days. Otherwise, a court trial might ensue. On average, it takes 23.33 days for a dispute case to be resolved, according to Qian.