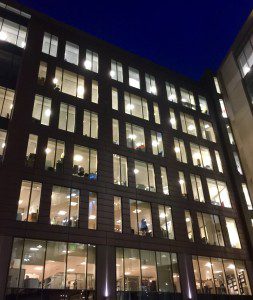 It was announced today that in the UK we are approaching "full employment." which seems to be great news although it might result in inflation.
The Bank of England's Deputy Governor said:
"We are over time seeing a situation where there are recruitment difficulties in many parts of the country, employers are having to bid up wages,"
"I do think that the labour market will start to tighten over the coming months."
It must follow that with suitably skilled employees being in demand that there is the possibility that employment disputes will increase as employees feel that they are not getting a good enough deal in their current workplace and can easily move elsewhere? There is less of a risk to employees in raising issues that they would otherwise put up with than if there was a shortage of jobs.
Employers may however be more willing to try to keep employees happy rather than having any disputes or losing a valuable employee and having to spend time and money recruiting from a shrinking labour pool. Moreover, does the availability of other employment mean that employees are able to mitigate their losses  more easily and will be less inclined to make employment claims?
In any event, it would be interesting to compare the statistics for employment claims in times of full employment with those when there is a jobs shortage. Whether or not claims rise, it is always worth considering mediation when a dispute arises.
People often associate workplace mediation with large businesses such as those pictured above, but there are a large number of micro employers with 10 employees or less.


We are members of the Federation of Small Businesses and well aware of the problems caused by workplace disputes.
The usual definition of small and medium sized enterprises (SMEs) is any business with fewer than 250 employees. There were 5.2 million SMEs in the UK in 2014, which was over 99% of all business.
There were 5.0 million micro-businesses in the UK in 2014, accounting for 96% of all businesses. The vast majority of businesses in the UK employ fewer than 10 people.
In 2013, there were 4.9 million businesses in the UK, over 99% of which were small and medium enterprises.  Small and medium enterprises employed 14,424,000 people in the UK in 2013. 
In many ways the relationship between small businesses and employees is a more personal and mutually dependent one and a dispute can be very damaging for both parties. An employer with one member of staff may be very reliant on that person to continue their business.
It is often believed that Workplace mediation can only be effective when undertaken by large organisations, but this is not the case, as mediation can be just as effective if undertaken by SMEs. Some may argue that SMEs are in a better position to resolve issues through mediation because of the mutually dependent relationship as mentioned previously. Take for example the highly publicised dispute between Nigella Lawson and her personal assistants, Francesca and Elisabetta 'Lisa' Grillo. The press is full of disputes regarding nannies and personal assistants and such disputes can be damaging to both parties' reputations.
As with other relationships in life, a problem aired and shared is a problem potentially solved, rather than being blown out of all proportion.
Often a third party mediator can be of assistance in trying to help to resolve the issue informally. This can result in a "win win" situation if the employment relationship can be preserved, enabling the employee to carry on in employment and helping the employers carry on with their working lives as well.

Disclaimer: The information and any commentary on the law contained in this article is for information purposes only. No responsibility for the accuracy and correctness of the information and commentary or for any consequences of relying on it, is assumed by the author. The information and commentary does not, and is not intended to amount to legal advice to any person on a specific case or matter. The article was written on the date shown and may not represent the law as it stands subsequently. For the avoidance of doubt, the views in this article are personal to the author and not attributable to any other individual or organisation.