The OLC (oversight board of the Legal Ombudsman) will be meeting on 7 December to consider the application to become an ADR Certified body to deal with complaints under the ADR Directive.
Perhaps one reason for the LeO wanting to do this is that complaints about law firms are projected to have fallen 22% in four years. This means that there is less work for the Ombudsman to do. Lawyers may well embrace mediation under the directive as a better way to resolve their disputes.
The chair of the Office for Legal Complaints said the 'progressive decline' can partly be attributed to so-called 'silent sufferers', who are prepared to tolerate poor service without complaining.
But Steve Green also said that solicitors are getting better at responding to complaints and satisfying clients.
'Some of it might be as a profession you are resolving more complaints at first tier,' Green said. 'It feels anecdotally there is something in that,' he said.
'We are seeing the top [most complained about] 50 firms responsible for significantly fewer complaints than when we started compiling the list. There is the sense of something getting better in the marketplace.'
However he added that more clients are acting as litigants in person or making greater use of unregulated providers and thus have no right to redress from the ombudsman.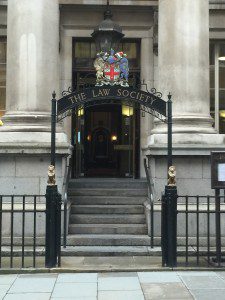 In fact, unregulated providers still have to signpost to an ADR entity although they are not required to use them (an unfortunate lacuna in the Regulations).  If clients and lawyers prefer to use ADR, what is the harm in that?  Maybe people have lost confidence in the Legal Ombudsman with its reputation for being slow.
Green said that where lawyers have behaved consistently poorly, he personally backed the idea of greater use of 'name and shame' powers, which have been used just once by the LeO in five years.
'It is in your interests and consumers' interests that where we do see evidence or risk we should be more courageous and pro-active in using those powers,'
Questioned by one compliance officer about the policy of publishing details of firms complained about, but where no remedy was necessary, the OLC chair revealed the ombudsman may seek a new approach in 2016.
'One of the things on our shopping list of things to do in the new year is to review our policy on publications. It is not our aim to penalise businesses who take this seriously and try to do the right thing.'
Interesting. If the LeO steps into the ADR Directive arena, widening its ambit and getting rid of time limits then one can see that it would be unfair to name and shame in cases where no remedy has been awarded. Lawyers would be likely to opt to try to mediate or use a different ADR entity instead.
Firms should seriously consider using an ADR Certified entity to mediate the dispute, if the client will agree to this, before the client complains to the Ombudsman.