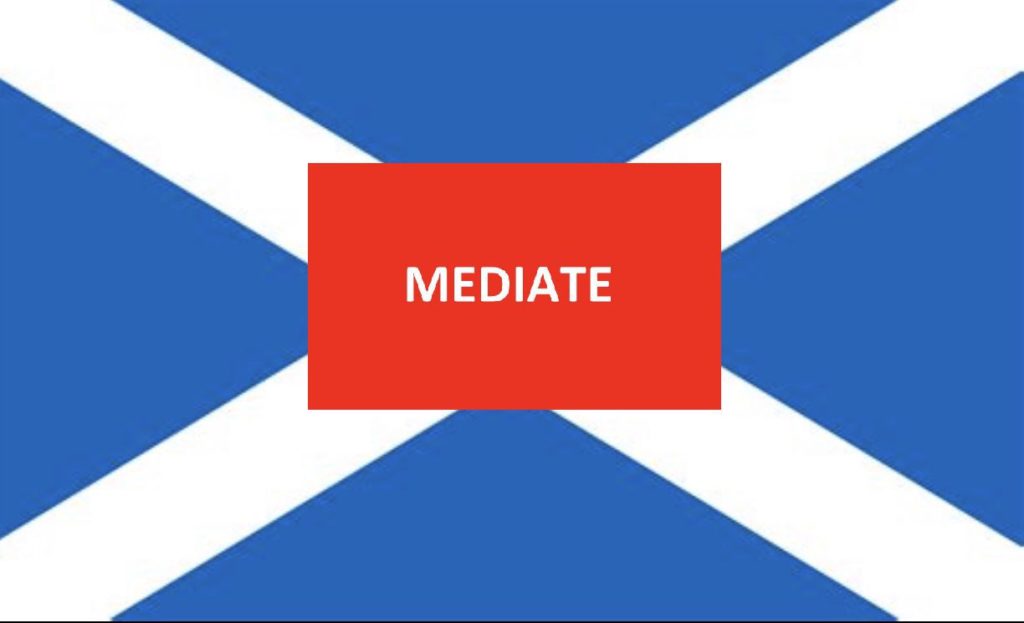 Following hard on the heels of the Civil Justice Council Report on ADR, a report has been published proposing a strategy to "normalise" the use of mediation in the civil justice system in Scotland as a "viable option in addition to, and often instead of, litigation".
The Report, Bringing Mediation into the Mainstream in Civil Justice in Scotland" was published on 28 June and makes 27 recommendations. These include introducing a mandatory requirement on parties to attend a session about mediation, ie a MIAM, funding options and primary legislation by way of a Mediation Act. In England and Wales the CJC recommended amongst other things a "notice to mediate" procedure.


It is an interesting contrast with the Civil Justice Council's report published in December 2018.

The objectives of the project were to:
review the current provision of mediation in the civil justice system in Scotland;
consider evidence of the use and effectiveness of mediation in other civil justice systems; and
formulate proposals to enhance the use of mediation in resolving civil disputes in Scotland.
The report reviews the current provision of mediation in Scotland: A full set of the recommendations can be accessedhere but can be summarised as follows

The report states that provision for alternative dispute resolution in Scotland's civil court rules is growing, but that its implementation has been inconsistent and made without the necessary infrastructure to support its delivery. As a result, the use of mediation remains limited.
The report considers "normalising" mediation in civil justice. It says "hoping that things will change is not a sustainable policy. Scotland needs to adopt a more proactive approach over time in order to deliver a viable pathway to mediate disputes".

Recommendations
The report then identifies 27 recommendations as to how this can be achieved. The recommendations can be accessed here.
Of particular note are:
Recommendation 1 "A degree of compulsion should be introduced into the system to encourage parties to consider mediation. Where mediation is appropriate, parties should be required to attend a mediation session before their court or tribunal case can proceed".
As with the CJC in its report, it shies away from recommending mandatory mediation. However it does recommend the introduction of MIAMS, (mediation information and assessment meetings) being a mandatory initial meeting of the parties with a mediator, who would explain what mediation involves and invite the parties to consider participating in a mediation.
Recommendations 2 to 6 It is proposed to create an "Early Dispute Resolution Office", EDRO, across all courts and tribunals. Its functions would be a first stage "triage" to review all cases and identify and direct cases towards mediation (or other more appropriate forms of dispute resolution) and to coordinate the mediation process. The EDRO system would include new court rules requiring sheriffs and judges to encourage parties to consider mediation where appropriate; and introducing mandatory referrals to MIAM via legislation, with provision for "special cause exemptions".
This is based on a presumption that cases will be referred to mediation unless there is a good reason not to do so. A mediator "roster" would be introduced, to be used by the EDRO in making referrals, or parties could choose their own mediators.
Recommendations 10 to 14
As for the mediation costs, they are based around the type and value of the disputes in question. I.e. mediations in tribunals would be publicly funded where appropriate; lower value claims would be publicly funded or very low‑cost mediations would be available; parties in medium to higher value claims would pay commercial rates agreed with the mediator; and below that, or where there is no clear monetary value, appropriate models would be considered, such as a "sliding scale". There is also a recommendation that mediators should be appropriately remunerated, especially in light of the current "unsustainable" dependence on probono mediators in lower value cases.
Recommendation 19 "Primary legislation in the form of a Mediation Act should be introduced This would: place a duty on Scottish Ministers to promote the use of mediation; set out a regulatory framework for roster mediators; set out the grounds for special cause exemption; formalise principles; provide definitions; endorse the components of a code of practice for mediators; provide for confidentiality in mediation; and signal a paradigm cultural shift for dispute resolution in Scotland."
This legislation would provide clarity in areas of law relating to mediation which are currently unclear (such as confidentiality in mediation, standards for mediation conduct and possibly enforceability of mediation agreements); and to raise the profile of mediation generally leading to its increased usage.
Recommendations 24 to 26 The report recommends that the Scottish Government and public bodies commit to include mediation in dispute resolution clauses in its own contracts and by considering carrying out research into public awareness of mediation.
Conclusion
This report could signal an increase in mediation in Scotland. The idea of holding MIAMs has been floated in England & Wales. The report does not appear to back sanctions for failure to mediate which are available in England & Wales.

If implemented, these recommendations might be a very positive development for mediation in Scotland. It is just disappointing that there are differences between the England & Wales vs Scotland positions as it would be better to have a unified concerted approach.


Report
Brining Mediation into the Mainstream in Civil Justice in Scotland.
---