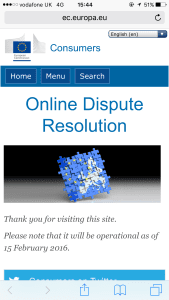 We have received the following information from the EU about the EU Platform due to be implemented by all Businesses selling online goods or services from 15 February.
Regarding the launch of the ODR platform, we would like to inform you that the Commissioner for Justice and Consumers, Ms Věra Jourová, will be addressing shortly a letter to national Ministers including, amongst others, the link to the ODR platform.

Given the upcoming deadline of 9 January and the traders' obligation to inform consumers about the ODR platform, we are sending you the link already:
http://ec.europa.eu/odr
You will see that it directs to a provisional page with a message informing that the platform will be operational (i.e. accessible to EU consumers and traders) on 15 February.
This is the link which all businesses must put on their websites.  Further guidance as to what needs to be done can be found at
http://www.businesscompanion.info/en/quick-guides/business-information-other/alternative-dispute-resolution
and at
https://www.businesscompanion.info/sites/default/files/ADR%20business%20guidance%20inc%20ODR%20Dec%202015.pdf#page26
Where a trader does business online, whether through a website or other electronic means, it must provide a link to the ODR platform website (once it is online).  The ODR Regulations state that the link to the ODR platform should be easily accessible for consumers. A logical place would be alongside existing complaints procedure information on a trader's website.
In addition, all online traders must state their email address on their website (a online contact form that does not show the email address is not sufficient to meet this requirement).
Where a trader is required to use an approved ADR provider (whether by law, by scheme membership or by contract) they must give additional information to consumers. Not only must they link to the ODR platform on their website, they must also inform consumers of the existence of the ODR platform and the possibility of using the platform to resolve disputes, and they must include this information in any standard terms and conditions of business. If an offer is made to a consumer by email, the email must contain a link to the ODR platform.
We can assist with the wording that businesses should use.