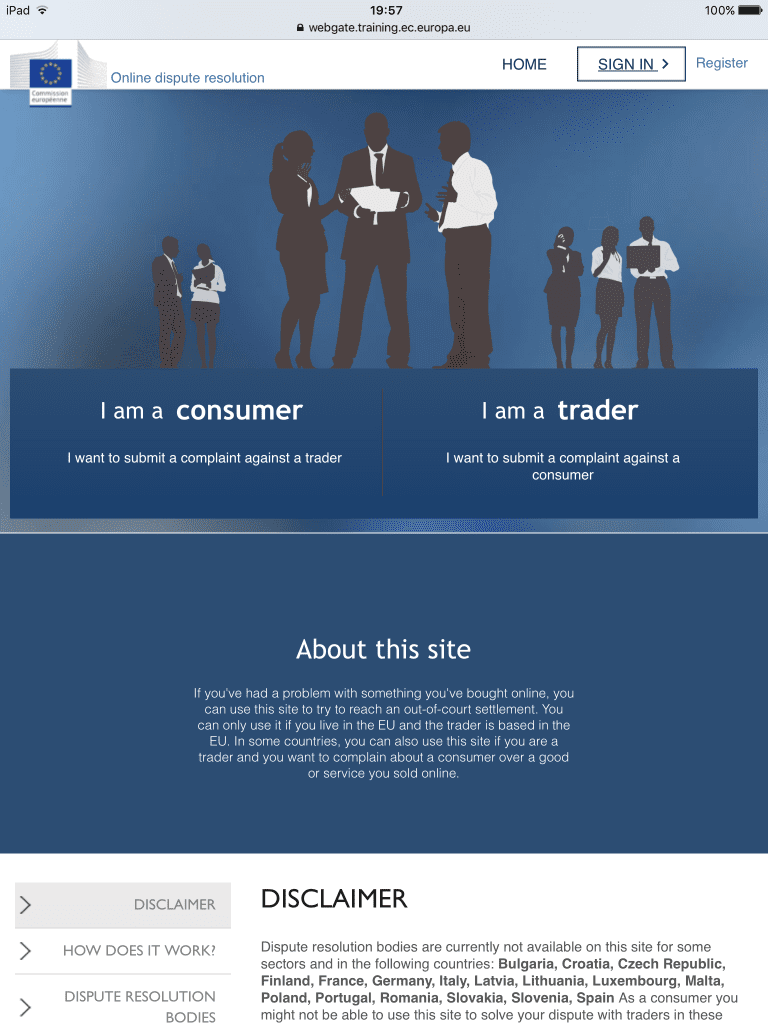 The EU commission has published a report regarding the consumer Alternative Dispute Resolution directive, incorporated into UK law since 2015 (and which we risk losing if we crash out of the EU.
https://ec.europa.eu/info/sites/info/files/com_2019_425_f1_report_from_commission_en_v3_p1_1045545_0.pdf
The report states that "As announced in the Commission's Communication 'A New Deal for Consumers', strengthening this consumer ADR/ODR framework is a priority in the Commission's endeavour to complement the EU enforcement toolbox, make the existing enforcement tools fully effective and make EU consumer law deliver its full potential."
Settling consumer disputes out of court holds considerable potential for consumers, retailers and the administration of justice in general. Access to easy, fair and cost-effective alternative dispute resolution strengthens consumers' trust when buying from retailers, in particular in an online environment. The less formal and typically conciliatory nature of ADR procedures allows the parties to maintain their customer relation even after a dispute has arisen. By engaging in ADR procedures, retailers receive important feedback on the quality of their products and services and gain an edge over their competitors by saving the costs of court proceedings and demonstrating high standards of customer care. An effective landscape of ADR entities furthermore alleviates the burden on courts, in particular as regards low-value disputes.
Overall, the new ADR framework is still underused. Based on the evidence gathered for this report, three main challenges can be identified that currently limit the framework's full effectiveness:

ADR awareness and perceptions

While overall ADR awareness has increased among both consumers and retailers, awareness levels are still insufficient in some regions and retail sectors. Overall, ADR awareness is lower in SMEs than in large retailers.
Among both, consumers and traders, there are misconceptions about ADR and ADR entities. For example, consumers sometimes confuse ADR entities with the trader's customer care service or perceive them as biased in favour of the trader, in particular when the ADR entity is linked to the trader or the trader's business association or when the outcome of the ADR procedure confirms the trader's position.
Traders sometimes consider ADR entities to represent consumers' interests and therefore perceive them as biased in favour of the consumer. The situation is compounded by the diversity of the ADR landscapes that feature a large array of ADR models, names and procedures.
The diversity of ADR landscapes makes them difficult to navigate for consumers and traders, in particular in the Member States with a large number of certified ADR entities. Overall, there is less clarity about the ADR entity to which consumers and traders can turn when there is more than one ADR entity per retail sector. A specific difficulty in navigating a Member State's ADR landscape arises when it features ADR entities whose scope is limited to specific aspects of a dispute in a given retail sector – to the effect that the consumer might need to turn to two ADR entities to have his or her issue dealt with fully.

Traders' participation in ADR procedures

While overall traders' participation in ADR has slowly, but steadily increased since 2014, currently only one in three retailers is willing to use ADR.
This is clearly insufficient, even when taking into account that a significant number of retailers not using ADR settle disputes bilaterally with the consumer.
Based on the flexibility that the Directive affords Member States in designing their national ADR landscapes, in a number of Member States ADR models have been developed or maintained that yield high participation rates. Such ADR models can be found in each of the following four categories:
i. models where the trader's participation is mandated by national legislation;
ii. models where the trader's participation is not mandated by legislation, but the trader is nonetheless bound to participate in the ADR procedure;
iii. models where the trader is neither mandated by legislation nor otherwise bound to participate in the ADR procedure, but incentivised to do so through a specific mechanism; and
iv. models where the trader is neither mandated by legislation nor otherwise bound to participate in the ADR procedure, and where the trader is not incentivised to participate through a specific mechanism.
However, in a number of regions and retail sectors the ADR models currently offered yield only insufficient participation rates for traders.
The report concludes as follows:
Consumer ADR and ODR has become an integral part of the EU's toolbox for the public and private enforcement of consumer law. Today, EU consumers have access to high-quality ADR procedures across the Union and in virtually all retail sectors, regardless of whether the dispute is domestic or cross-border and whether the purchase was made online or offline.
The European ODR platform provides a centralised and multilingual hub for resolving online disputes, triggering a direct settlement in up to 42% of cases. However, about one year after full ADR coverage has been achieved and three-and-a-half years after the launch of the ODR platform, the ADR/ODR framework is underused and has yet to reach its full potential. Current challenges include ADR awareness and perceptions, the navigability of national ADR landscapes and traders' uptake of ADR. Furthermore, the workflow on the ODR platform currently only partially reflects demonstrated user needs.

The European legislative framework for consumer ADR and ODR rests on a logic of shared responsibility and cooperation. The diversity of the national ADR landscapes and the exchanges between ADR stakeholders across Member States have created an 'ADR laboratory' where ADR models and design options are compared and critically assessed and emerging best practice is identified, shared and increasingly implemented.
The Commission will continue to facilitate the development of a Union-wide community of ADR stakeholders including, inter alia, ADR entities, consumer and business representatives, national competent authorities, regulators and academics. In that context, the Commission will for example convene the second Union-wide ADR Assembly in 2020, further promote ADR and ODR in its 2019 communication campaign on consumer law and continue to support the capacity building by ADR entities through grants. The Commission will also further improve the ODR platform, including by making the platform better respond to the needs of its users by providing more targeted information on consumer rights and redress, better directing users to the most appropriate redress tools and better facilitating direct settlements