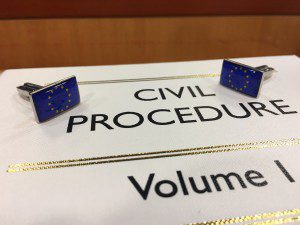 It is not uncommon in mediations for one party to take the best most spacious room and consign the other party to the smallest most uncomfortable cupboard type space. Similarly, they can withhold lunch or refreshments until the other party is desperate in order to exert pressure during a mediation. It is not uncommon to keep the other party waiting until late in the day before making an offer.
It is reported that such tactics are being deployed in the Brexit negotiations.
Britain's Brexit negotiators have been denied water during talks in Brussels as the EU sought to gain a competitive advantage over the UK, a civil servant has revealed.
The anonymous official said a lack of water available during talks may have been evidence of "unsporting tactics to get the upper hand".
They also outlined the scale of "paranoia" within the British camp, highlighting fears of phone tapping and a ban on the wearing of smart watches to prevent leaks.
David Davis is carrying his Brexit documents and electronic equipment in a briefcase fitted with a Faraday cage to protect against hacking.
The civil servant wrote: "Yet the most significant bit of feedback to emerge from the slightly combative early meetings is also perhaps the most elemental one. Water. Or to be precise, the lack of it."
The inside account also sets out fears about the security of official documents, citing a "palpable fear" that civil servants could be targeted and "concern that the French are tapping UK phones".
We always recommend that any mediation takes place in sound proof rooms, but have never had to go that far!