Recent cases which illustrate how massive legal costs can build up and leave one losing party significantly out of pocket:
1. Clive Shaw
Has been told he will have to leave his home and will not be allowed to inherit his family's farm in Lincolnshire because he 'didn't work hard enough'
A dairy farmer's 'disappointing' son will be thrown out of his home and banned from inheriting the family business because he 'hates cows'.
Clive Shaw, claimed he was put to work on his family's £1million farm in New York, Lincolnshire, from the age of seven and believed it would be his one day.
But after a falling out at in 2016 he was written out of his parents Walt and Gill's will.
The couple, both 78, claimed he hadn't worked hard enough on the farm, couldn't be trusted to get up on time for work, and 'hated cows' because they 'made him nervous'.
He tried to fight their decision with a High Court case, but it has been thrown out and he and his partner Leslie Hollis have just six weeks to leave their home on the farm.
Judge John Linwood said Mr Shaw had been told he would inherit Whaley Farm by his parents, but only on the condition he worked for it.
Judge Linwood told the court: 'Clive was promised the farm would be his inheritance from about 1978 onwards, but those assurances were conditional upon Clive working properly on the farm in the manner of a dedicated, long-term farmer.
'However, Clive was not sufficiently interested and his lifestyle choices were such that he did not want to take on the farm and dedicate himself to it, as his interests were elsewhere, in driving and engineering.
'Sadly for Walt, Clive I find was never going to be the farmer Walt thought and hoped he would be and take over the running of the farm.'
Earlier the court heard that despite the family fall out, Mr Shaw and his partner Miss Hollis continued living in a caravan on the farm, only yards from his parents' farmhouse.
Mr Shaw took the case to the High Court in a bid to force them to follow through with the promises he said they made to him.
He insisted he worked long and hard enough during the years when he was at the farm full-time and returned to help out whenever free afterwards.
But his sister, Cheryl Hughes, 43, told how he would often say things like cows were 'stinking, horrible, rotten creatures'.
Although Mr Shaw admitted he 'didn't like' the cows, he denied hating them – but Judge Linwood was convinced that was not the case.
'He has tried to downplay this but I accept the evidence of Cheryl that he hated the herd and they were nervous of him,' said the judge.
'[His other sister] Teresa also says Clive hated the herd and that he had 'no empathy with animals'.'
The parents told the judge it would have been their 'biggest dream' if Mr Shaw had eventually taken over the farm and continued a long family tradition.
The Shaw farming business dates back to the days of Walt Shaw's grandfather and at its height covered 250 acres of Lincolnshire countryside.
Mr Shaw senior said the cows were the family's 'pride and joy', having topped the Lincolnshire Herd Competition 27 years in a row, but Clive was not interested.
He eventually stopped working on the farm and now splits his time between a show-truck business which he runs from the land, and engineering work abroad.
Mr Shaw junior's barrister, Leslie Blohm QC said he had performed 'arduous' work for relatively little money over many years on the understanding that he would eventually inherit the business.
'He cannot go back and have his life again,' he told the judge, adding: 'He should therefore be entitled to the farm and the farmhouse.'
But the judge continued: 'There was a family expectation that Clive, as the eldest child and only son, would inherit the farm – in the sense of it being a family business – not purely as an asset, but as a working farm, to be inherited by Clive as a farmer.
'Walt assumed that his daughters would all marry, follow their husbands and thereby move away from the farm.
'Walt invested considerable trust, effort and money over many years in the hope Clive would respond by farming with enthusiasm, effort and application..'
He said it would be 'improbable' that a lifelong farmer like Walt would promise his son the land unconditionally, whatever Clive did or did not do.
'Any assurance by Walt was conditional and Clive failed to meet the conditions,' he continued.
'Clive made lifestyle choices which suited him over the years; he never took an interest in farming. He did what he wanted to do as his life went on.'
He rejected Mr Shaw's claim and said he and Miss Hollis would have to leave the land, taking their horses and trucks with them, in six weeks.
The judge also ordered him to pick up the lawyers' bills for the dispute, which are estimated to be at least £100,000. Clearly, these litigants would have been better off if they had resolved their differences, through mediation.
2. A Rugby player who sued male model opponent when he lost his spleen after 'reckless' challenge LOSES £500,000 claim as judge tells him serious injury is 'part of the sport'
A rugby player who sued the male model opponent who injured him in a match has lost his £500,000 damages claim after being told serious injury is 'a part of the sport'.
Full-back Dominic Fry, 26, lost his spleen after he was flattened by Ryan Ball, 26, during a match in Hove, Sussex, in October 2013.
He claimed that his opponent – who is now a male model – 'recklessly jumped into' him when he had no chance of winning the ball.
Mr Fry launched an unusual legal claim, insisting Mr Ball and his club, Hove RFC, should fork out £500,000 in compensation.
But he lost the case today when Judge Jeremy Freedman found that Mr Ball had simply mistimed an attempt to charge down Mr Fry's kick.
'His minor error of judgment in slightly mistiming the attempt to charge down the ball cannot conceivably found a claim in negligence,' he said.
'The reality is that the risk of physical injury in a fast-moving competitive contact sport is both inevitable and unavoidable.
'The mere fact that serious injury has befallen a player does not mean that another player should be held liable.
'Such injuries do occur and occur frequently without any fault or negligence on the part of
In his evidence, former Haywards Heath RFC full-back Mr Fry said the match at Hove was an 'intensely competitive' local derby, but played without bad blood.
He had just gathered a ball and kicked it downfield, aiming for touch, when his opponent 'recklessly' crashed into him, he claimed.
Mr Fry, who now works as a crew member on luxury yachts, claimed the impact involved 'wholly unnecessary and violent contact'.
'I remember glancing down to just see Mr Ball flying through the air, leading with his knee and elbow,' claimed Mr Fry. 'That is the last thing I saw before the impact.'
The impact ruptured his spleen and he had to be taken to hospital in Brighton by ambulance to have it removed.
Mr Ball was given a yellow card and sent to the sin bin for the incident, but he and Hove RFC denied that he led with his elbows or knee.
The court heard Mr Fry is now at increased risk of infections, meaning he has to stay away from parts of the world where diseases like malaria and dengue fever are prevalent.
He told the court he had hoped to emigrate to Canada to work as a personal trainer, but that the ambition was ruined by the
It was simply an accident which occurred during a 'reasonable attempt to charge down the ball', said
His barrister Jonathan Bellamy told the High Court: 'The contact between the players was not off-the-ball or outside the course of play, for example a punch or a trip.
'It was caused by Newton's laws of motion applied to two fast-moving bodies; when one is trying to kick a ball and the other is trying to charge it down.'
Judge Freedman found that Mr Ball made a genuine attempt to charge down the ball and there was 'nothing he could do' to avoid impact once the ball had gone.
'I reject out of hand the suggestion that he was acting in any way maliciously, was intending to cause injury or acting in an unsportsmanlike manner,' he said.
The claim was dismissed and an order made that Mr Fry is liable for the other side's lawyers bills, but Mr Bellamy said the order would not be enforced. Clearly, again, these parties would have been better off mediating.
Judge Freedman added: 'Mr Fry is deserving of much sympathy, but he will understand that a claim such as this cannot be decided on the grounds of sympathy. Legal principles must be applied and that is what I have endeavoured to do.'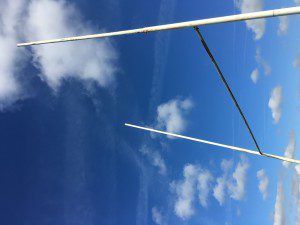 3. An Architect who helped recruitment tycoon and his wife landscape garden of their £5m home for free defeats their £265,000 damages claim after three expensive court hearing.
An architect who helped friends landscape the garden at their £5million home – free of charge – has finally beaten off their £265,000 damages claim.
Basia Lejonvarn, 53, stepped in to help recruitment tycoon Peter Burgess and wife Lynn transform their green space in Highfields Grove, Highgate, in 2013.
The work she did for them was 'gratuitious', but they blamed her for a litany of alleged defects and massive cost over-runs.
But now, after three ruinously expensive court hearings, Judge Martin Bowdery QC has ruled that Mrs Lejonvarn was blameless.
The couple's claims that she negligently project managed and designed the garden 'lacks credibility and conviction,' said judge said.
The row between the former friends broke out when the Burgesses decided they wanted to iron out the steep slopes in their garden.
They wanted restful terraces, paths, lawns and mood-lit flower beds but weren't happy with a £150,000 quote from an established landscape gardener.
Mrs Lejonvarn offered to help her friends and Polish contractors were found to carry out the work at a lower price.
But, within months, she and recruitment tycoon Mr Burgess, 58, were engaged in an acrimonious 'email war'.
The builders were ordered off the job and the project was eventually completed by the gardener whose quote the couple had earlier rejected.
The Burgesses said the transformation of their garden cost them £265,000 more than it would have done had Mrs Lejonvarn never been involved.
She protested that she had merely provided free advice to the couple on a friendly basis, in a 'non-commercial, informal and social context.'
But the Court of Appeal ruled last year that, as a professional, she 'assumed responsibility' for the project and owed the couple a legal duty of care.
Now, however, Mr and Mrs Burgess have come away with nothing after Judge Bowdery cleared Mrs Lejonvarn of incompetence.
The couple had taken 'a scattergun approach' to criticising her performance and Mr Burgess's evidence was 'argumentative and often inconsistent'.
Her drawings 'were not produced negligently' and she did not breach her duty by failing to spot defects in the work, the judge ruled.
Accusations that Mrs Lejonvarn had failed to produce an adequate budget for the project were 'particularly difficult to understand.'
It was the couple who suffered 'confusion over the correct size of the budget' and it was that which caused the break down in relations with the architect, the judge found.
Mrs Lejonvarn's budget was 'reasonable and competent' and claims that she was responsible for cost over-runs 'offend common sense', the judge added.
'To pursue this claim suggests that the Burgesses seek to punish Mrs Lejonvarn for her alleged negligent mistakes, rather than seek fair and reasonable compensation,' he went on.
'I have seen no convincing evidence why she, if allowed to finish the project, could not have completed the garden within budget…
'She had the experience and expertise to complete this project if the agreed budget had been respected and had been acknowledged by the Burgesses.
'I simply do not understand why Miss Lejonvarn is responsible for the defective works, if any, carried out by the Burgesses' contractor.'
Handing final victory to Mrs Lejonvarn, the judge concluded: 'This claim is dismissed.'
The judge has yet to hear argument on which side must pay the enormous legal costs of the case, which are bound to run well into six figures.
Miss Lejonvarn's barrister, Louis Flannery QC, said later: 'We are very pleased with this judgment, in which sense has finally prevailed.
'This claim should never have been brought and was entirely without merit. It's a simple case of an act of unpaid assistance given between friends being inappropriately deemed as actionable formal professional advice.
Mr Flannery said the judge 'correctly found' that Mr and Mrs Burgess 'only really fell out with my client over money.'
'This judgment will give great cause for relief to anyone unfortunate enough to be sued after having volunteered to give gratuitous advice or assistance to friends or acquaintances who might otherwise be unreasonably held accountable for issues beyond the scope of their counsel.'
4. Millionaire aristocrat, 38, collapses in court as he launches battle with his canon mother over their 230-year-old country estate.
Old Etonian William Reeve, 38, says the future of the 18th Century Leadenham Estate, in Lincolnshire, is at risk due to a family row.
His brother, James Reeve, is currently locked in a row with single mother Georgina David, who has accused him of letting them bring up their baby alone despite his family owning the 20-bedroom home.
The estate was owned by his father, Peter Reeve, having been passed down through generations of the family.
But after Peter's divorce from wife Henrietta in 2013, an order was made to sell it and split the proceeds.
It was subsequently decided that the estate would instead be 'partitioned', with his mum owning 40 per cent and his dad the rest.
However, desperate to keep the family estate intact, William is now fighting a Court of Appeal battle which he says could save it.
Representing himself, Mr Reeve collapsed as he began to argue his case and had to be assisted by his mother's lawyers during a 10-minute adjournment.
'The goal of my case is to keep the estate together,' said William, who currently manages the estate. 'My primary aim is securing the future.'
The court heard Henrietta Reeve, 62, a lay canon of Lincoln Cathedral, petitioned to divorce her aristocrat husband Peter in 2011.
Following negotiations in 2013, it was agreed that the estate would be sold and £1million paid to each of their four children.
Money left over would then be split between the former couple, with Peter, 71, receiving 60 per cent and Henrietta 40 per cent.
But the order was later changed so that, instead of being entitled to the cash proceeds, the ex-couple would own the estate in those shares.
In 2015, however, William, one of four children, launched his own claim to the estate, alleging that his parents held it on trust for him.
He said he was entitled to it because it had been promised to him and that his parents had 'acted in an unconscionable manner'.
His case was heard in Birmingham by Judge Jane-Anne Evans-Gordon, who rejected his claim in July last year.
However, he now says that, because the same judge heard his parents' divorce case, she may have been biased against him.
As the divorce was heard in private, he was not allowed to be present, he told two senior judges at the Court of Appeal.
It meant there was a chance that things had been said about him which might have influenced the decision.
He said he had seen a document from the divorce which painted him in a 'negative' light, and questioned whether more had been said that he did not know about.
'It is a pattern, I say, where I get referenced so frequently, and generally negatively, by my mother in the matrimonial proceedings,' he said.
William said the problem meant a fair-minded observer might consider the judge was potentially biased against him when dismissing his claim.
He said that, as it stood, with the estate 'partitioned' between his parents, it would probably have to be sold off as he could see no way of keeping it.
And William argued that, with the estate divided, there simply wouldn't be enough income to maintain and repair the historic pile.
He told the court: 'Even now, the threat on Leadenham House is still huge.'
Representing Mrs Reeve, Christopher Lundie argued Judge Evans-Gordon's ruling could not be faulted and William's appeal should be dismissed.
'The fair-minded and informed observer would not conclude that the conduct of the judge disclosed bias,' he added.
William's father Peter was a defendant to the claim on the estate, but has not responded to the appeal.
Lord Justice Floyd and Lord Justice Baker reserved their decision on William's challenge until a later date.
Lord Justice Baker told him: 'It is obviously a tragedy for your family what has happened. It is very sad, indeed.'
It comes as the Department for Work and Pensions investigated Ms David's claim that she has been left to fend for herself.
The Child Maintenance Service is monitoring the case after being contacted by Ms David's local MP, who is supporting her claims.
Speaking to MailOnline, Ms David, who lives in a rented flat in Chelsea, West London, said: 'We've just been left to fend for ourselves and it's been a nightmare.
'I have hardly any money, we are only managing to survive as it is thanks to financial help from my family, who are helping me pay the bills, yet he lives in a huge stately home and owns his own polo club.
'He's also a direct descendant from Edward III apparently. I would have expected more honourable behaviour coming from such nobility.'
The 34-year-old legal aide said she has suffered Alopecia and has endured sustained stress and anxiety while attempting to care for her young son alone.
Again, this is really a case where mediation would have been ideal, saving the parties a lot of stress and legal costs.