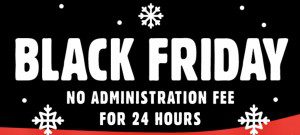 Sell in Haste – Repent at Leisure
Traders – We are here to help you resolve any problems with consumers after Black Friday.
With it being a rush to buy presents for Christmas, consumers often change their minds after purchase and want to return goods purchased. This can lead to disputes.
Did you know that:
· 52% of the public think more highly of a business that handles complaints effectively;
· 43% would feel more confident in a company that offered access to a dispute resolution service, such as an ombudsman scheme;
· 26% would be more likely to buy from a business offering dispute resolution services; and
· 75% would be more likely to return to a company if a complaint they made was handled well (compared to 8% if badly handled).
Using an ADR certified complaints resolution service is bound to result in increased consumer confidence and customer retention.
Most consumers prefer to resolve disputes without going to Court, saving time, cost and aggravation. Before going to Court it is best to try it.
If you are a trader or business you need to be aware of the legal requirement to signpost to a certified ADR Provider. Consumers are becoming switched on to their rights under the Consumer Rights Act: failure to notify of cancellation rights in distance selling contracts can lead to invalid contracts – Beware!