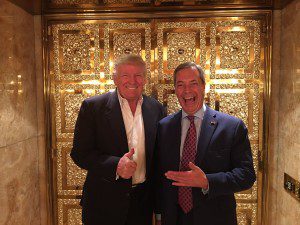 It seems to me that the election of Donald Trump ushers in a new age of conflict. I do not recall a more argumentative election following hard on the heels of the UK referendum. These elections highlight to me what happens when people want to protest against the status quo and the arguments are not based on truth or reliable expert evidence.
This is very different to the judicial process, hence the attacks on the High Court judges who considered the legal arguments and came to a reasoned decision. The Crown Prosecution Service is looking into the arguments used in the referendum campaign and there is talk of impeaching Mr Trump, but it seems unlikely to me that any legal decisions will overturn the "popular" will.  Hillary Clinton won the popular vote and only 37% voted for Brexit, but we are stuck with it. There is no hint of compromise emerging and the UK government continues to ignore 48% of voters and is pressing on with an appeal.
We ask whether Donald Trump's election means a return to conflict and litigation. There is already talk of a more aggressive approach in Syria and of course Mr Trump addressed rallies with a cry of "build that wall" and his supporters shouted "lock her up." Was Mr Trump negotiating and putting forward his strongest case, only to moderate his tone upon being elected? There are signs of this in relation to action against Hillary Clinton and Mexicans but signs that Mr Trump will ally himself with the bellicose Mr Putin.
One should bear in mind that Mr Trump is famous for litigating over everything from his golf courses to his tax bills to Trump University. USA Today has carried an analysis of legal cases which demonstrates how litigious Mr Trump is, turning to the Courts on at least 3,500 cases in the past 30 years. Mr Trump may well encourage a culture of increased litigation and conflict in the US which may be mirrored in the UK as we always seem to follow their lead.
The disputes range from claims concerning casino owners to million-dollar property claims and defamation cases.
As USA Today notes, the sheer volume of lawsuits is unprecedented for a presidential nominee. No candidate of a major party has had anything approaching the number of Trump's courtroom entanglements.
Just since he announced his candidacy a year ago, at least 70 new cases have been filed, about evenly divided between lawsuits filed by him and his companies and those filed against them. And the records review found at least 50 civil lawsuits remain open.
Just as he was elected, court documents were released in one of the most dramatic current cases, filed in California by former students accusing Trump University of fraudulent and misleading behaviour.
The legal actions provide clues to the leadership style the billionaire businessman would bring to bear as commander in chief. He sometimes responds to even small disputes with overwhelming legal force. He doesn't hesitate to deploy his wealth and legal firepower against adversaries with limited resources, such as homeowners. He sometimes refuses to pay real estate brokers, lawyers and other vendors.
As he campaigns, Trump often touts his skills as a negotiator. The analysis shows that lawsuits are one of his primary negotiating tools. He turns to litigation to distance himself from failing projects that relied on the Trump brand to secure investments.
As USA TODAY previously reported, he also uses the legal system to haggle over his property tax bills. His companies have been involved in more than 100 tax disputes, and the New York State Department of Finance has obtained liens on Trump properties for unpaid tax bills at least three dozen times.
However, despite his boasts on the campaign trail that he "never" settles lawsuits, for fear of encouraging more, he and his businesses have settled with Claimants in at least 100 cases.
Most involve personal injury claims by people who say they were injured at Trump properties, with settlements that range as high as hundreds of thousands of dollars.
Alan Garten, general counsel for the Trump Organization, said in an interview that the number and tenor of the court cases is the "cost of doing business" and on par with other companies of a similar size. "I think we have far less litigation of companies of our size," he said.
The USA TODAY analysis included an examination of legal actions for and against Trump and the more than 500 businesses he lists on the personal financial disclosure he filed with the Federal Election Commission.
A handful of the ongoing cases involve local or state government entities, with the possibility of personal legal disputes between the president of the United States and other branches of government if Trump is elected. For instance, the Trump team has filed a lawsuit seeking a state ethics investigation of the New York attorney general. The suit was filed in response to an ongoing fraud investigation into Trump University by the attorney general, an elected state official.
The trial of the Trump University case was set for November — just after Election Day.
Trump's history of legal actions provides clues about his style as a leader and manager. While he is quick to take credit for anything associated with his name, he is just as quick to distance himself from failures and to place responsibility on others. In one lawsuit — filed against him by condo owners who wanted their money back for a Fort Lauderdale condo that was never built — he testified in a sworn deposition: "Well, the word 'developing,' it doesn't mean that we're the developers."
At times, he and his companies refuse to pay even relatively small bills. An engineering firm and a law firm are among several who filed suits against Trump companies saying they weren't paid for their work. In a 2011 deposition tied to a dispute over his deal with Van Heusen menswear, he said he abruptly decided not to sign a check to a firm that helped broker the deal, after 11 consecutive quarterly payments, because "I don't feel that these people did very much, if anything, with respect to this deal."

The number of lawsuits raises questions about potential conflicts and complications if Trump does win the White House. Dozens of cases remain unresolved, about half in which he is the Claimant. It raises the possibility of individuals being sued by the president of the United States, or suing him, in non-governmental disputes.

Under the law, Trump wouldn't get special advantages as the claimant, or protections as a defendant. Under long-standing conflict-of-interest rules, as a Claimant he couldn't improperly benefit from governmental knowledge. He also wouldn't get immunity from civil litigation that stemmed from events prior to taking office.
This suggests that, like Theresa May, he seems to take an uncompromising approach. As pointed out, getting things done in government often involves building coalitions among legislators and foreign leaders who have their own priorities and agendas.
Presidential historian Douglas Brinkley, has said that "a lot of good governance is on learning how to build proper coalitions and how to have patience with the glacial pace of government, and you're forced to abide by laws at all times. "
The USA TODAY analysis identified at least 3,500 legal actions involving Trump. Reporters reviewed thousands of pages of records collected electronically and in person from courts in 33 states over three months, read more than 20 hours of depositions and interviewed dozens of litigants.
Among those cases with a clear resolution, Trump's side was the apparent winner in 451 and the loser in 38. In about 500 cases, judges dismissed Claimants' claims against Trump. In hundreds more, cases ended with the available public record unclear about the resolution.

Close to half the court cases — about 1,600 — involved lawsuits against gamblers who had credit at Trump-connected casinos and failed to pay their debts. About 100 additional disputes centered on other issues at the casinos. Trump and his enterprises have been named in almost 700 personal-injury claims and about 165 court disputes with government agencies.

Dozens dealt with the bankruptcy proceedings of Trump's companies, and dozens more involved Claimants' lawsuits against Trump businesses that judges terminated because the Trump companies targeted had gone bankrupt.
They include Trump's ongoing suit against the town of Palm Beach over airplane noise near his Mar-a-Lago Club and an earlier lawsuit against the town over an 80-foot flag pole. Trump's team argued in court that a smaller flag would understate his patriotism, but he eventually settled with town officials, agreeing among other concessions to lower the pole by 10 feet.

There also are disputes with local governments from New York to Florida to Nevada over the size of his property-tax bills.

The terms of most of the 100 settlements that Trump and his businesses reached with claimants have not been disclosed. In about 60 additional cases, those sued by the Trump side have settled with him.
We reported how Melania Trump had started defamation claims against UK publications regarding comments made about her. In the UK it was reported on Roll on Friday that a partner from Herbert Smith Freehills helped Donald Trump to sue a comedian who challenged the president-elect to prove he wasn't fathered by an orangutan.
In 2013, US comedian Bill Maher mocked Trump's offer to donate $5 million to charity if Barack Obama produced college transcripts proving that he was born in the US. On his show, Maher offered to donate a matching sum if Trump released a birth certificate proving that his father was not an orangutan.
Instead, Trump instructed Herbert Smith Freehills to send Maher a copy of Trump's birth certificate and demand payment of the $5m. In an accompanying letter, HSF informed Maher that the evidence proved Trump "is not the 'spawn of his mother having sex with an orangutan'".

HSF then sent two follow-up demands before filing a bizarre breach of contract claim in the Los Angeles Superior Court claiming that "a contract was formed between Maher and Mr Trump as of the moment the Acceptance letter was sent". The lawsuit demanded payment of Trump's legal costs, appropriate "further relief" and the $5 million, which he specified should be sent to Trump rather than to the nominated charities directly.
The claim was subsequently dropped.  There have also been disputes regarding the Aberdeenshire golf course and the wind farm and the recalcitrant farmer, Michael Forbes.
All the signs are that Mr Trump is very litigious and a frequent Court user, so his election may serve to highlight the litigation process and turn the clock back in terms of public perceptions about conflict resolution. On the other hand there is a clear incentive for Mr Trump to protect his reputation as President and to resolve any outstanding litigation amicably through mediation, in which case we are ready to serve, Mr President!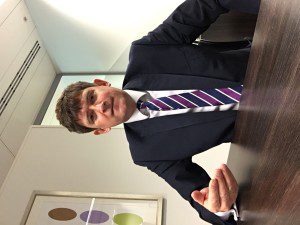 Footnote/Breaking News:
Donald Trump has settled fraud lawsuits relating to Trump University for $25m, removing a legal headache despite having pledged to fight the cases to the bitter end.
Lawyers for the president-elect settled the three lawsuits on 18 November, averting the prospect of him testifying in a courtroom showdown which threatened to reveal more troubling details about the now defunct real estate course.
New York's attorney general, Eric Schneiderman, claimed vindication and victory for those "swindled" by the course.
"Donald Trump fought us every step of the way, filing baseless charges and fruitless appeals and refusing to settle for even modest amounts of compensation for the victims of his phony university," Schneiderman said in a statement.
"Today, that all changes. Today's $25m settlement agreement is a stunning reversal by Donald Trump and a major victory for the over 6,000 victims of his fraudulent university."
Every victim will receive restitution and the president-elect will pay up to $1m in penalties to the state of New York for violating state education laws, Schneiderman said. "The victims of Trump University have waited years for today's result and I am pleased that their patience – and persistence – will be rewarded by this $25m settlement."
Trump's attorney did not immediately respond to a request for comment. Under the deal the president-elect will reportedly not admit to any wrongdoing.
Former students who filed the suit said they were lured by false promises to pay up to $35,000 to learn Trump's real estate investing "secrets" from his "hand-picked" instructors.
Brexit 
Meanwhile the Brexit Court bandwagon continues, demonstrating that where there's a dispute there is a lawyer making a lot of money-
Senior Tories have urged Theresa May to scrap the government's appeal against a high court ruling which states that parliament must vote on leaving the EU.
Oliver Letwin, the former head of the government's Brexit preparations, has called on the prime minister to abandon its supreme court appeal over the decision on article 50, the mechanism that triggers exit negotiations.
The former attorney general Dominic Grieve and former solicitor-general Sir Edward Garnier also said May should avoid taking the case to the UK's highest court.
The three Conservatives, who all supported the remain campaign, said they wanted the process to start as soon as possible with a bill in parliament.
Garnier told BBC Radio 4's Today programme on Saturday: "That way you avoid an unnecessary legal row, you avoid a lot of unnecessary expense, but you also avoid an opportunity for ill-motivated people to attack the judiciary, to misconstrue the motives of both parties to the lawsuit, and you provide certainty."
It is certainly the case that this appeal will be costing a huge amount of money and we intend to find out exactly how much following the hearing by a freedom of information act request. All for what?