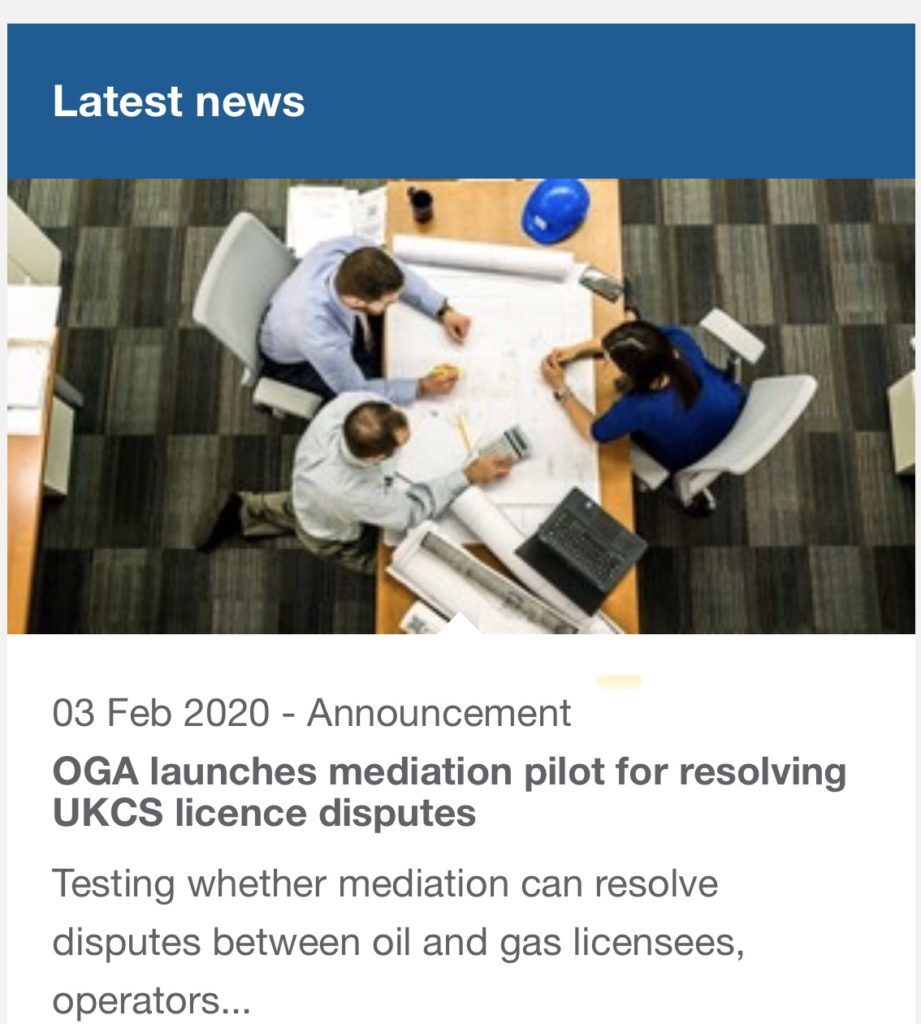 The Oil and Gas Authority (OGA) yesterday (3 February 2020) launched a year-long 'UKCS Mediation Pilot'. The pilot aims to test the extent to which mediation can resolve certain disputes between oil and gas licensees, operators and infrastructure owners in the UK Continental Shelf.
It is great to see the OGA embracing mediation and recognising the benefits. The only somewhat disappointing aspect of this is the decision to appoint one well known provider to the pilot without apparently considering any other providers. There are plenty of other providers who can supply mediation services, perhaps at a lower cost.
We always encourage parties incorporating mediation into contracts in dispute resolution clauses and commercial/public bodies such as this not to specify the mediation provider or to open pilots up to other mediation providers to encourage competition and diversity.
So the OGA says on its website as follows:
The OGA has found that disputes have generally arisen due to entrenched licensee behaviours or communication breakdowns. They can be costly and time consuming for the companies involved, as well as threatening the delivery of MER UK.
While the OGA has a number of formal powers which can be used to resolve disputes, some matters could be better addressed by the parties themselves through mediation. Mediation is conducted by a neutral third party (unconnected to the dispute) who, unlike a judge in a court case, does not make a decision about the dispute but acts as a conduit between the parties, facilitating discussion, summarising arguments and highlighting areas of agreement and disagreement.
The aim of mediation is to encourage parties themselves to resolve the dispute, rather than a decision being handed down to them by a judge (or indeed the OGA). This resolution could be done over a relatively quick time period, otherwise the dispute could continue for many months (and even years).
During the mediation pilot, the OGA may ask the parties involved in a dispute to proceed to mediation. This request could be at any point during the OGA's measured escalation process (see figure 1 below) or as part of the OGA's business as usual stewardship.
As part of this pilot, if the parties agree to mediate, the OGA intends to refer them to the Centre for Effective Dispute Resolution (CEDR), an experienced third-party service provider who will facilitate the mediation.
If after the mediation, the parties still remain in dispute, then the OGA may, either at the request of one of the parties or on its own initiative, resolve the dispute using its formal dispute resolution powers.
Once the pilot period has completed, the OGA will review the efficacy of the scheme.
They inform us that:
At present, the pilot scheme is limited to 12 months to 'test the market', as the OGA needs to see whether there is sufficient interest within the UK oil and gas industry to use such a scheme before setting up something more formal.