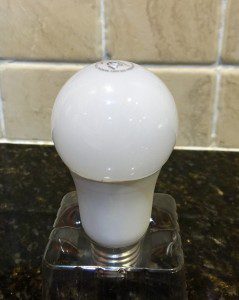 In an astonishing waste of time and money, three magistrates, four lawyers, two firemen and an expert witness were dragged into court to resolve a row between neighbours over a lightbulb that was too bright.
Lesley Simkin's neighbour in Lytham, Lancashire complained about bright light. She refused to remove it so was summoned to Blackpool Magistrates' Court.  Eventually her solicitor reached an agreement with the council to remove it
The total cost of the investigation and legal process is estimated at £20,000
Environment officers investigated in October and told Ms Simkin to remove the light.  When Ms Simkin refused, she was accused of breaching an abatement order and summoned to trial before magistrates in Blackpool.
But instead of removing the light, she instructed a  barrister, claiming that she needed the light for fire safety reasons.
He called a fire safety expert to help argue that the light was essential to illuminate the exit at the back of Ms Simkin's house.
Meanwhile, Fylde Council instructed criminal barrister as well as its own legal team and two Lancashire Fire Service officers to argue the light was not essential.
Other witnesses including environmental investigators
The barristers, spent several hours discussing the case before they agreed the light would be removed.
The total cost of the investigation and legal process is estimated at £20,000. Ms Simkins' Barrister said that:
'They will have to get together and resolve what has become a rather difficult problem.'
Chairman of the Bench said: 'We expect this to be resolved and will be very disappointed and will take a very dim view if it is not. This has taken a great deal of time and money.'
All this time and money might have been saved if the parties had agreed to mediate the dispute over the lightbulb. Alternatively the neighbour would have been better off agreeing to abide by the abatement notice.