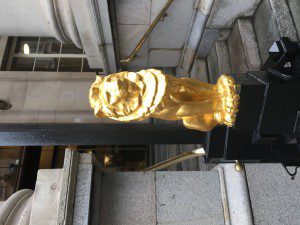 Naming and shaming is all the rage with the announcement that the Small Business Commissioner will be able to do this.
Also, prive comparison websites could soon be handed official data so they can name and shame law firms with poor complaints records, the profession's ombudsman has revealed.
In a move likely to trigger outrage among high-street law firms, the office of the Legal Ombudsman confirmed that it was in discussions with ministers and private websites over how its vast bank of data could be made public. This is something that the CMA is keen on happening in relation to lawyers' costs. It is another thing to publish details about numbers of complaints through review sites.
Kathryn Stone, the chief ombudsman (pictured), said that she had "a duty" to make the data available and that doing so through comparison websites was likely to happen sometime next year.
She acknowledged that the publication of complaints records would be potentially controversial – especially among high-street, consumer-orientated law firms. She maintained that her office was committed to neutrality, saying "we are not there to be consumer champions, but likewise we are not there to support the legal profession".
The office confirmed that its annual budget was holding steady at about £14.65 million, of which nearly £3 million was ringfenced to deal with complaints concerning claims management companies. Last year the office dealt with some 3,000 CMC cases, compared with about 7,500 complaints about lawyers. The biggest volume of complaints remained issues around residential conveyancing, said Stone, but those involving wills and probate matters were also high.
The ombudsman's comments came a day after the Law Society, the body that represents solicitors in England and Wales, said that the ombudsman office's plans to extend its ambit to cover unregulated providers of legal services should not be funded by a levy on its members.