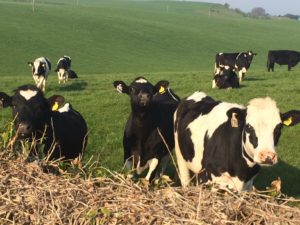 Nothing can annoy neighbours quite so much as unwelcome noise, except perhaps boundaries or tall hedges. We have heard of complaints about cockerels and peacocks which are particularly noisy but never before regarding cows. We have to say that if a claim was ever brought in the courts about cows mooing, what would farmers be able to do about their animals?! We have sheep living near us as we are based in the countryside and would never dream of complaining about countryside noises! As mediators we often get asked to try to help resolve neighbour disputes.
James Bullock (yes, really!) of Swillington said noise from cows by his home was 'intolerable'.  The farmer, Mr Cartwright branded the dispute a 'waste of money."  Leeds City Council has ordered the noise of a herd of cow to be monitored for a year, after a dispute between two neighbours about excessive mooing spilled into a planning hearing.
James Bullock, of Swillington near Leeds, played councillors the sounds of cows mooing during a retroactive planning hearing for a barn to house animals at neighbouring Swillington Organic Farm.
'The noise has been intolerable. I have to lie there in bed listening to this bellowing,' he said.The dispute is centred on a farm building close to Mr Bullock's home, which was originally granted planning permission for use as a hay barn.Mr Bullock complained after the barn began to be used as a cow shed.
'The recent planning application for the use of the barn for livestock has been granted by Leeds City Council for one year whilst the noise is monitored using equipment and methodology that can be independently verified,' a Leeds City Council spokesperson said.
Both parties agreed with the plan proposed at the meeting.
On the other side of the dispute, farmer Ed Cartwright said that the felt the dispute was "a bit absurd really. We've obviously tried our best to accommodate them,'
'Cows only moo when they're unhappy, and we have pretty happy cows here."
It sounds as if the parties to this dispute have reached an agreement. Other neighbour disputes can get out of control and can be disproportionately expensive and fraught. We would recommend Mediation in any such case.