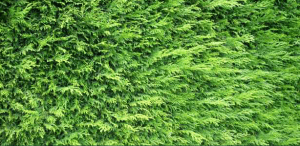 What is it about people in the UK and their inability to get on and their intransigence? The weapon of choice for neighbours at war is the Leylandii hedge. The only effective cure is mediation.  Not a day goes by without a story such as the following:
Solsbury Hill – on the edge of Bath in Somerset – has found itself at the centre of a dispute between warring neighbours.
Several families who enjoyed sweeping views, set in an area of outstanding natural beauty, are furious that the view has been blotted out by a 50ft wall of beautiful leylandii trees.
The residents, in the village of Bathampton, have accused their neighbour Valerie Vivian of deliberately growing the 'barricade' as revenge for being refused permission to build on her land.
The planning dispute has been raging for nearly 20 years and in 2001 Mrs Vivian planted the conifers, which grow 3ft every year and can reach 100ft.
She has never cut the trees back, and slowly but surely they have been eating up her neighbours' views of the 625ft National Trust-owned landmark.
Under the High Hedges section of the 2003 Anti-Social Behaviour Act, councils can order offending hedges to be cut if they are a 'barrier to light or access'. But residents in Devonshire Road still get plenty of sunlight and they don't require access.
A spokesman for Bath and North East Somerset Council said: 'The council has assessed the site against the criteria of the Act and determined that the council, if requested, could not issue a Remedial Notice.'
In desperation, the villagers have also contacted local Conservative MP Jacob Rees-Mogg and the parish council.
Mr Rees-Mogg said: 'I have written to the council about this issue on several occasions but it is hard for it to intervene in a situation where there is no legislative answer.'
He added: 'It is essentially a dispute between neighbours which is best resolved through goodwill on both sides.'
Moira Brennan, chair of Bathampton Parish Council, said: 'The leylandii are very out of keeping with the village and it is a conservation area so they are not appropriate.
'We have been very supportive of the residents but we are limited in what we can do. We would like to see a change in the law.'
Perhaps Mr Rees-Mogg, arch eurosceptic might look to the EU to introduce a directive? Clearly when God invented the leylandii he should have included a dispute resolution clause in the commandment to love thy neighbour!
Parties can quite often look to their home insurance policies to obtain funding to litigate disputes with neighbours, but legal expenses insurers are nowadays insisting on mediation as a first resort to reduce the costs involved.