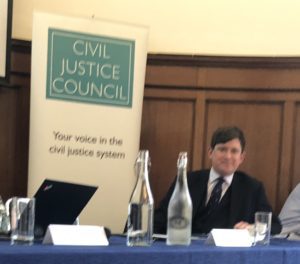 I was privileged to attend and speak at the Civil Justice Council's ADR Workshop today. All the key people involved in mediation and civil justice were there to discuss the CJC's interim report on ADR in the Civil Justice system. This included representatives from the judiciary, HMCTS and NHS R as well as the CJC's Sir Robin Knowles and Bill Wood from the CJC's ADR working group.
I spoke about the Manchester Mediation Pilot and how I thought that use of the ADR Regulations in consumer disputes could be better tied in to the small claims procedure. Paul Randolph from the Civil Mediation Council spoke passionately about encouraging parties to mediate before starting proceedings and bringing in more incentives to mediate as opposed to penalising parties right at the end of the litigation process, as he thought that people need more encouragement, by analogy with seatbelt usage, where habits only changed when seatbelts became compulsory. He pointed out that we would not have attended if everything was fine with the current system.
There were a wide range of views expressed about the idea of introducing automatic referral to mediation and it was explained that the CMC now has a new complaints process with teeth to ensure that registered mediators abide by standards and to avert any fears regarding the opacity of the mediation process.
I explained that with the Manchester Mediation pilot, we had recently received feedback from a user who said that it was so good it should be rolled out nationwide.
The CJC will now consider the submissions made and report further.